(book purchased by reviewer)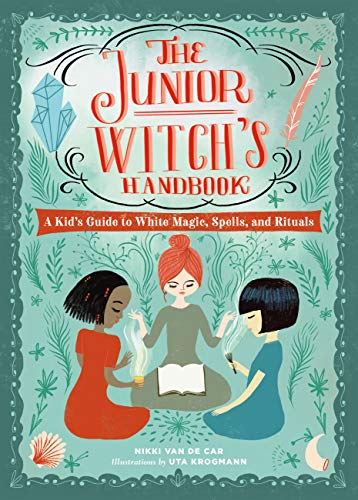 I ordered this book with my own "nearly 7 year old" junior witch in mind. My own little witchling is somewhat younger than the suggested reader age of 8 – 12 years old but, I wanted to add something to our ever-growing home library to have to hand when the time was right. I was looking for a companion and simple reference book which would guide and nurture her already inquisitive enthusiasm for mixing and magick that she would enjoy looking at.

This lovely little book arrived and I was certainly not disappointed. It covers a very wide range of topics providing basic information on alters, grimoires, crystals, cards, oils, storytelling magic, herbs, sigils, and a reference guide for the Elder Futhark runes.

The information is age-appropriate although for witches at the younger end of the suggested readership there is quite a lot of text in some chapters but it is interspersed with colourful artwork.

The spells and rituals are simple enough to encourage witches to encourage independent practice. Children are encouraged to choose their tools and materials rather than being provided with an extensive list of "must have" items and there is a useful glossary at the back of the book to help explain some of the more tricky words that they may not have encountered before.

There is a little section on meditation and mindfulness where the writer describes well the complications of friendships and family life that most children will encounter as they continue their steps on the path to adulthood.

There are a couple of things that I will mention and, depending on your own junior witch, you may want to have a conversation about prior to introducing a child to this book. The first is fire safety. There is some candle magick within the book and I couldn't see any reference to the importance of fire safety. I am sure that the book is intended to be used under supervision but, when I think of my own child she would be best described as a whirlwind. With time, her spontaneous, excitable nature and fierce independence may be dampened but, it is something that I will need to take time to give very clear guidance on before her imagination is captured and she sets out desperate to spread her own glorious light to the world.

The second thing I will very briefly touch on is the "ethics of magick". There is some talk of practising positively to bring benefit to another person (a friend or family member). There is little discussion around whether there is a need to make that person aware of your plans and practice. If this is something that you do feel important, it may be worth having a conversation about what you do or don't do when you are using your magick to influence the energies of another person. There is, however, a lovely introduction at the front of the book which explains the Rule of 3 and serves as a gentle reminder for children to consider the energies they send out and, of course, the implications of the energies they send out

All in all, with it's wonderfully simple information and instruction, The Junior Witch's Handbook will be a welcome addition for any parents and their children who safely wish to explore the world of white magick and begin their practice.