(review originally published in 2016, book purchased by reviewer)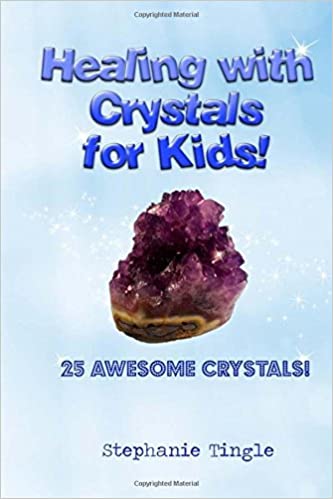 So, I've been on an energy and holistic healing kick lately, and since I'm running low on Pagan themed books for kids, I figured I'd branch out a bit and look for "technique" related books for kids. Turns out there's a ton of them.
This one is written by one of the consultants for a really nice online crystal shop, http://www.healingcrystals.com – they also post tons of great cryastal info on their facebook page.
This is a nice introductory book – it talks about the science of crystals, the history of their use, chakras, and how to care for crystals. The bulk of the book is profiles of 25 different (and mostly fairly common/easy to find) crystals, plus a page for your child to write their own notes, thoughts, and opinions about each.
My one complaint about this book is the photos – they are all fairly washed out (don't get me wrong – color control in most small publishing outfits these days is challenging), but this is to the point that they can't be used to identify stones, which would seem to be an important part of this book.
Other than that, it's a great starting point for kids to explore stones on their own.