(Review originally published 2013, book purchased by the reviewer)
My biggest complaint: this book is perfect bound, and as a workbook, I really wish it was either spiral bound, or had tear-out pages, or something. I could see kids doing these pages over and over again, and I've recently come upon several ways to re-use pages (like putting them in plastic page protectors and using dry erase markers and crayons), and I can't do that with this book.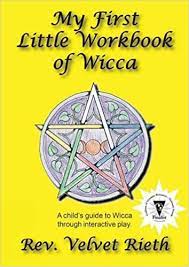 Rev. Rieth put this together for her grandchildren. It has pages to color, a Pagan alphabet, pages to practice writing alphabet letters, words, and numbers, information on color correspondences, information on quarters and directions, songs, activity ideas, and activity pages.
There is a ton of info here, and enough activities to keep a child busy for hours and hours – in fact, I could see using this book as the basis for a preschool or kindergarten curriculum. I know that my son brings home similar pages from preschool every day right now.
The Wiccan content isn't super deep here, but then it's not really meant for that sort of thing. And as always, any themed alphabet is going to pick and choose what words to use, and there's always at least one that leaves me wondering what they were thinking.
All in all, a cute book, and one we'll definitely be making use of, as soon as I figure out how to make the pages re-useable for my little guy with fine motor delays who could use plenty of practice….