(book owned by reviewer)
I've been promising a review of Pagan Homeschooling, by Kristin Madden, for some time now. I've finally finished re-reading it, and truthfully, I feel like the impression I got from it when I first read it, probably 17 years ago, was probably correct then, and is still correct now. Sure, it's the first book ever about Pagan Homeschooling, but it could have been so much better.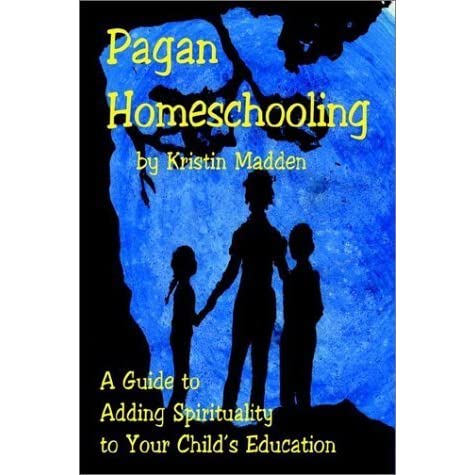 Keeping in mind that this book was published in 2002, let's get some observations out of the way. The resources didn't age well – easily half of the internet links are no longer in existence. Even many of the books recommended are out of print. The homeschooling lingo is dated – unless you're in California, where charter schools are still an option to homeschool. Cover schools were a big thing in the early 2000s, but they're rare now – I think only a couple of states still require them.
The resources take up a good bit of the pages. So do suggested meditations, and the 14 page graduation ritual (my copy of the book is 296 pages including the appendices, end notes, and index). So, really, although it's a decent length book, there's not a ton of info here.
Madden writes from a really specific sort of Pagan perspective – she was raised by parents who practiced shamanism, and includes astrology, chakras, energy work, tarot, other forms of divination and psychic work, and crystals as part of her exercises in each chapter, and in materials that she recommends using for learning. Not that there's anything wrong with that, but it's worth knowing that if those aren't your thing, this may not be the book for you.
She also writes from a specific homeschooling philosophy – while a lot of what she says sounds like something most unschoolers would say, she also talks about worksheets and unit studies, so I'd say she's more eclectic. Curriculum options have changed quite a bit in the intervening years, but the Pagan-specific curricula she suggests are no longer in existence.
On the actual content other than what's above, I guess I'd give it a 3 out of 5. Maybe it'd be different if I didn't know a ton of homeschoolers already, but her chapter on why people homeschool and how to decide if it's right for you seems more like an explanation of why she feels it's the best option for Pagan families. Like most Pagan books of the era this one was published, it covers elements and Sabbats (and how you might then apply them to your homeschooling journey). She talks a lot about generic Christianity running through most public schools, and while that's still somewhat true, it's not true the way it was 20 years ago, where every few weeks it seemed like there was another Pagan family fighting with a school about requiring Bible study or handing out Bibles. Her FAQ is pretty typical for introductory homeschooling questions – how do I afford this, how much time do we have to spend, and so on. She includes some info on special needs children, but it's clear that it's second hand info at best with no experience behind it.
Her subtitle, "A Guide to Adding Spirituality to Your Child's Education" is probably a more accurate title than Pagan Homeschooling, really – she talks more about working with children and spiritual topics than about mundane schooling, though she does talk about ways to bring the mundane topics into Pagan topics at times.
When I read this the first time, I didn't have children, but had bought a house in a top-notch school district, in the neighborhood attached to the worst school in the district, on the theory that, worst case, we could always pay for a private school, because I couldn't figure out how we'd homeschool given our lives as they were. Now that I have children with complex special needs…I can tell you that our experience at that public school was probably the best school experience that we could have had for them, and that no private schools locally will accept my children as students. We're about a year into a mostly eclectic unschooling experience, and it's not clear that my kids will go back to public school this year, or ever. But I still don't find this book to be all that helpful or exciting.