(review originally published November 2014, book purchased by the reviewer)
This is the second book in the Sunchildren series, focusing on the Autumn equinox. These books are out of print, but you may be able to find copies online.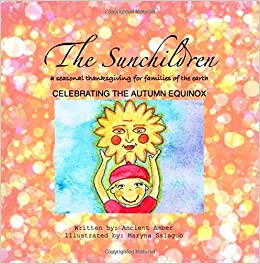 Like the Summer Solstice book, this one lists a number of seasonal activities that the Sunchildren are doing, which your children might like to do along with them. Although the book is somewhat repetitive in that respect, I think younger children will appreciate. It also encourages creativity and respect for others, which are always good things.
This book feels like there's more explanation in the beginning. I'm not sure that it's needed, especially not in long paragraphs.